It's horrible of me to have never concluded the girls' stay with me back in August, but it was especially hard on me bringing them back.. so I put it off. Then my wedding was a couple weeks later + honeymoon + life getting in the way. So I decided to finally do it now, for those of you who remember them and were curious as to what happened with them. :)
The day I brought the girls back was really sad.. I got to the humane society and they obviously were unaware that I was coming to bring them back. It was mid-August which is also prime kitten season time, so they were at full capacity and had to search all over for a room to put Cami and the kittens. They ended up having me bring them across the parking lot to an old vet building that they use to keep cats/kittens that have special needs or are sick. Since Cami had STILL seemed sick to me I had warned the humane society owner and she thought it was a good idea to keep Cami in quarantine until they could have the vet look at her again. This old building was super creepy, all cement walls and floors and old kennels... ugh I was feeling so sad for the girls. A very helpful volunteer set up a room for Cami and the girls and I gave them a blanket from my house and a few of their favorite toys. I said a very tearful goodbye and was on my way home. I cried the whole way! The three of us had really bonded. It was really fun with them because Cami was SUCH a friendly girl and they pretty much had free reign of the house from pretty early on. My other two previous foster mamas didn't like my boy cats so they could only have short supervised visits outside of the kitten room. Cami didn't care at all if the boys babysit Gemma and Gia.
I watched the humane society page every day for weeks, waiting for news of them being adopted. Cami was there for a little over a month. She wasn't available for adoption right away because she was still sick and they were trying to get her feeling better. The first day she was put up for adoption was at a Petco adoption day and she was the first one of the group to be snatched up! I was so happy that I cried when I found out she was adopted. She SO deserved a good, loving home. Here's a picture of her at her new house!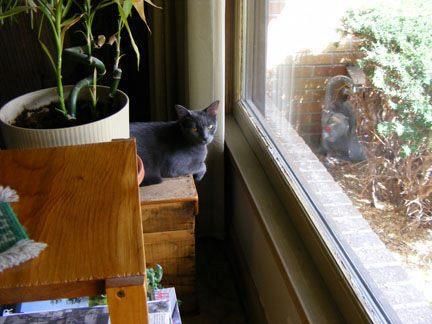 The kittens were there for even longer.. :( They weren't adopted until November. I knew it would take longer for Gemma because of her disability. It turns out that she definitely had cerebellar hypoplasia. They kept the girls together and were hoping that they would get adopted together, which they eventually did! I'm very glad about that. Before they were adopted the humane society featured Gemma on their site and wrote this about her: "Every once in a while we are blessed with what we call little bobble babies. What this means is that they have a neurologic disorder which is caused when the mother has been exposed to the distemper virus when she was carrying the babies. These babies don't know their is anything wrong with them and they live long happy lives requring no medical attention at all. This little beauty is one of those babies. She just happens to bobble when she walks. It really is a very cute personality trait. We love these little babies and they become very special to us as we watch them grow."
Here is a video of Cami and the girls. In this video you can really see Gemma playing and bobbling around. Really, she just looked like a super, super clumsy kitten. :)
So with Gemma having the cerebellar hypoplasia then we also knew that Cami had distemper at some point during her pregnancy which also explained her constantly being sick. The poor girl had EVERYTHING wrong with her, I swear! And on top of it all she was the still the sweetest girl.
Okay and the best part is the pictures! Here's pics from our last day.
I always have to take a picture with me and my kitties. :)
And me and my Cami girl.
Gemma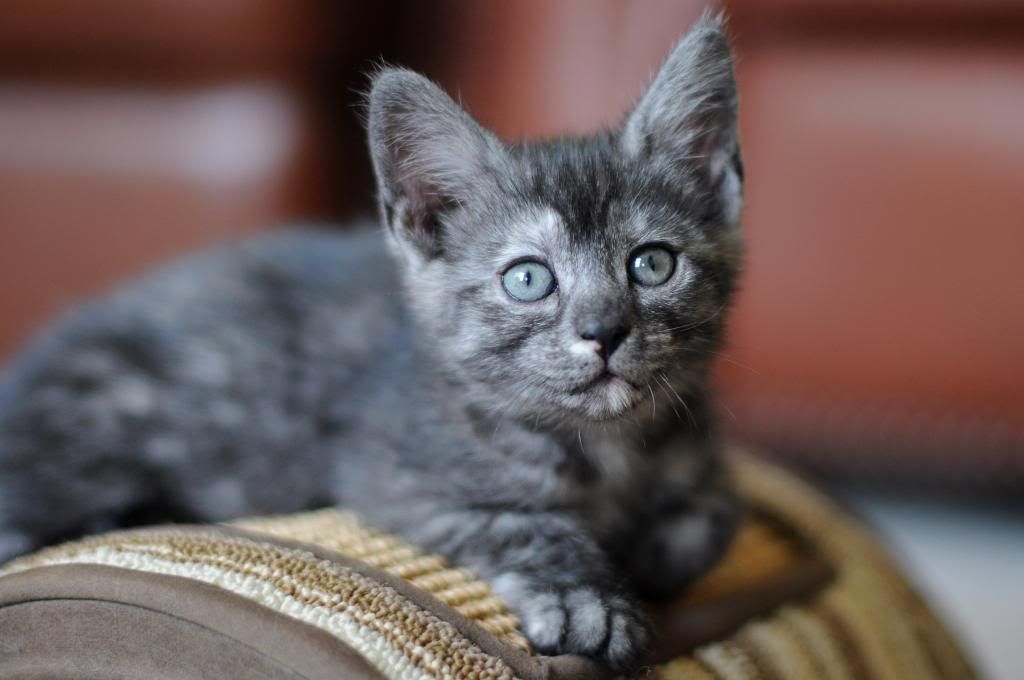 Gia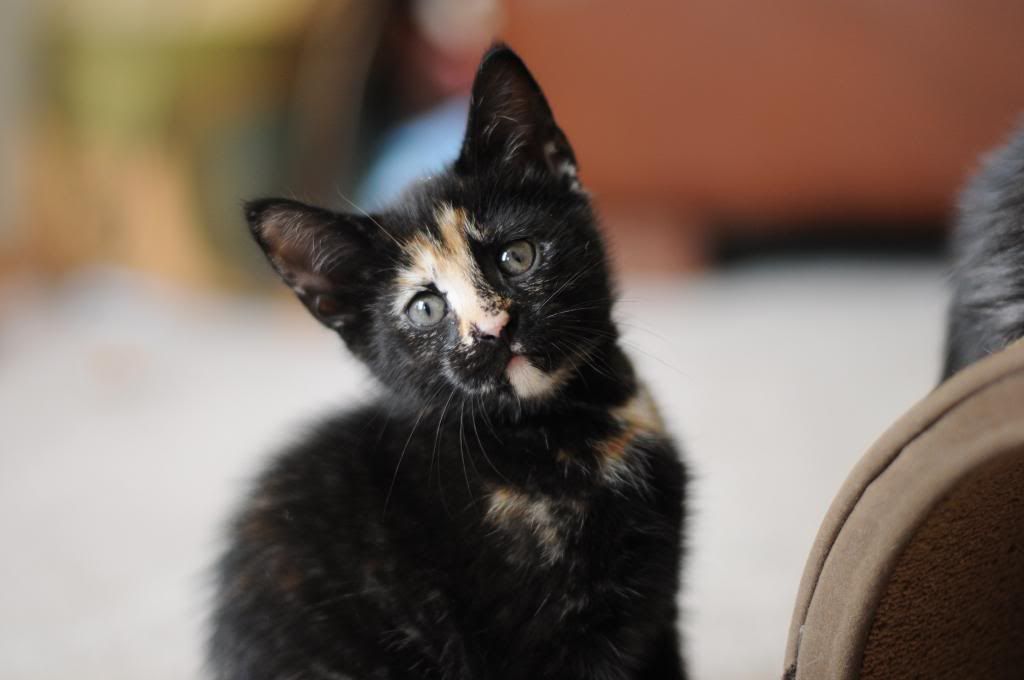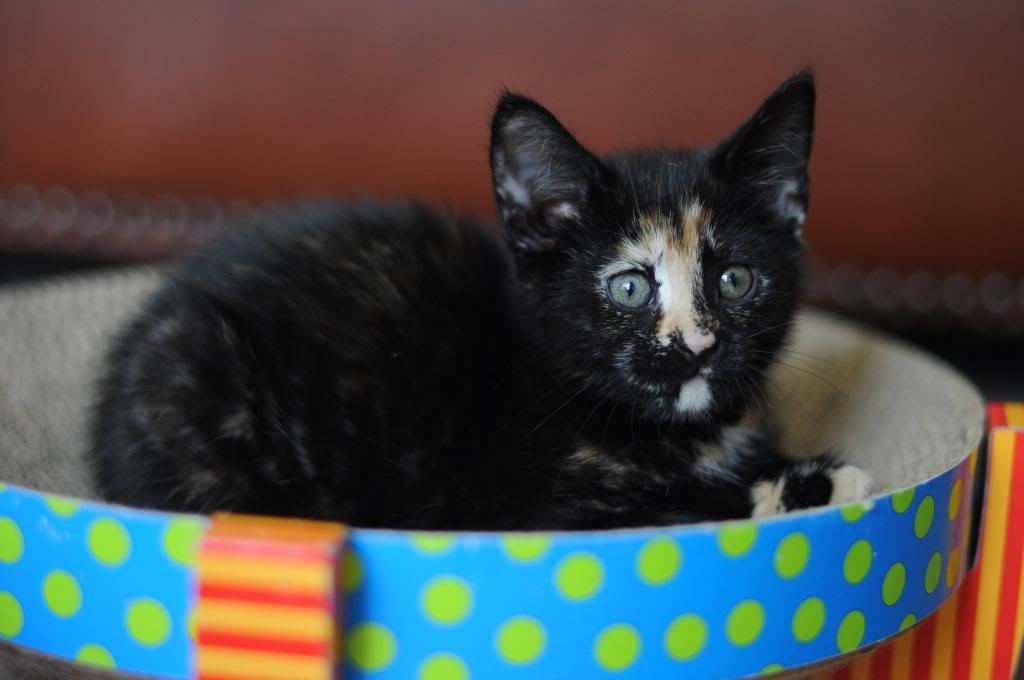 (That little tail kills me!)
Cami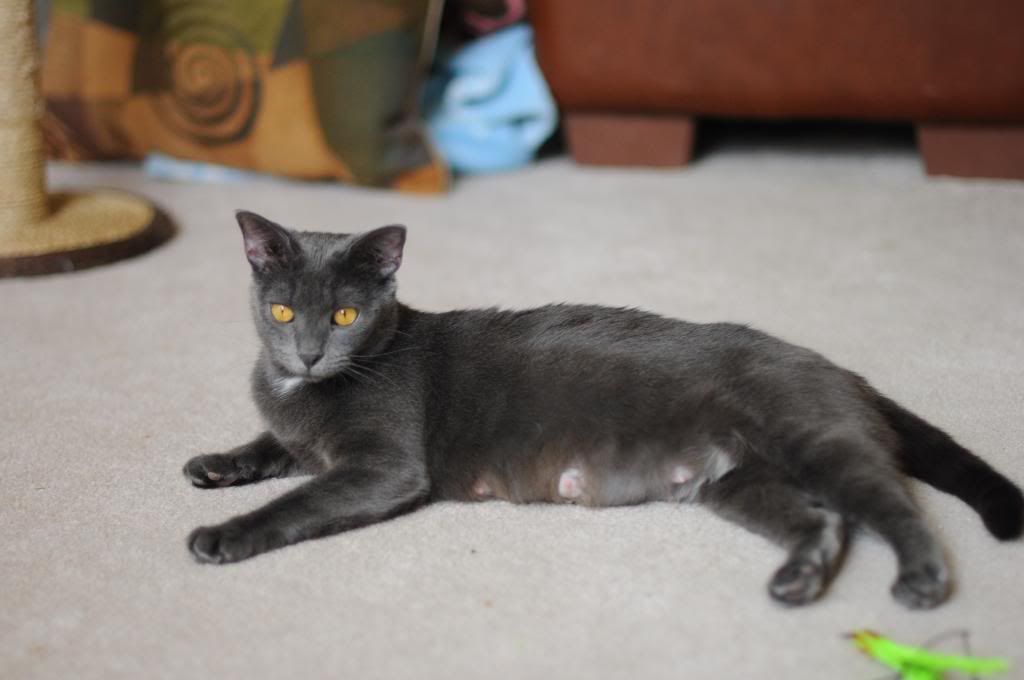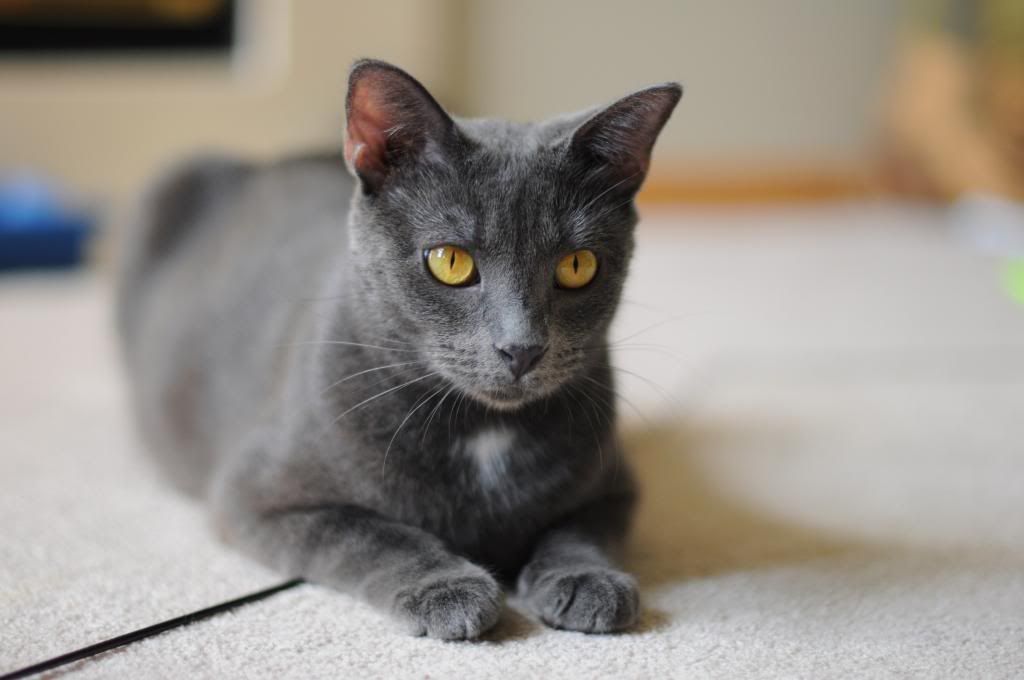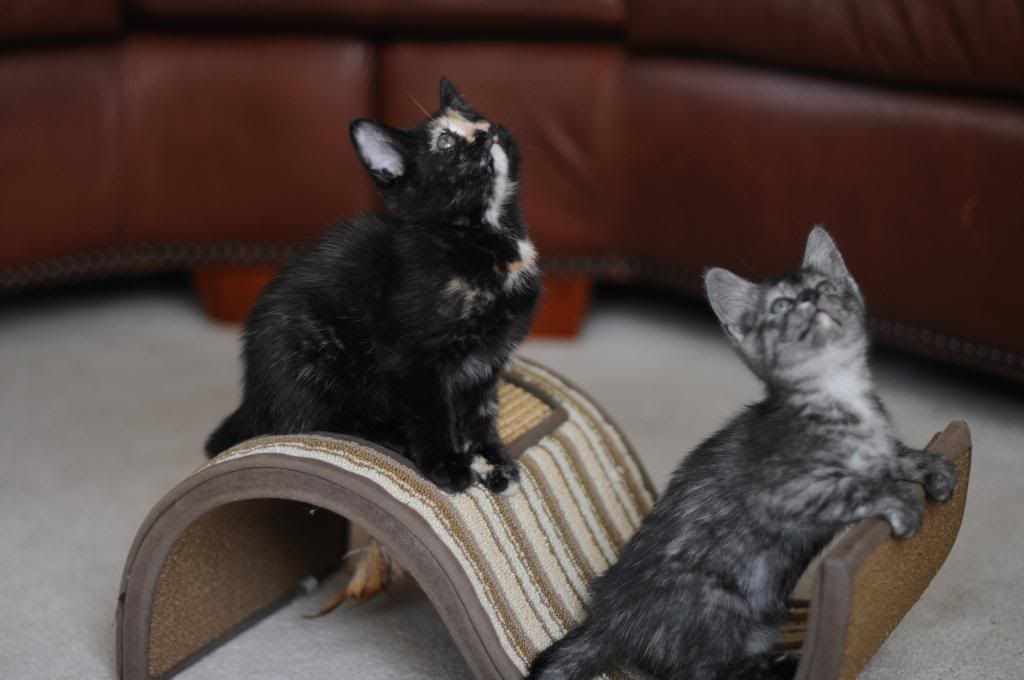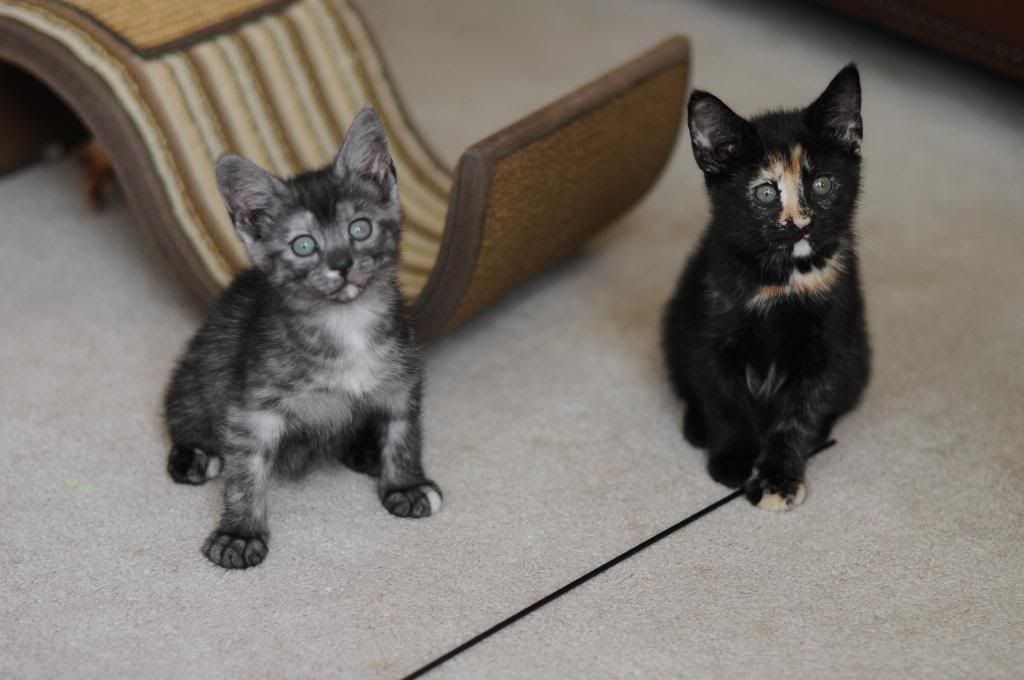 The girls were still nursing from Cami when I brought them back! They sure loved there mama, and she loved them.
Both girls nursing from mama :-)
And Gemma nursing while Cami's sitting up :-)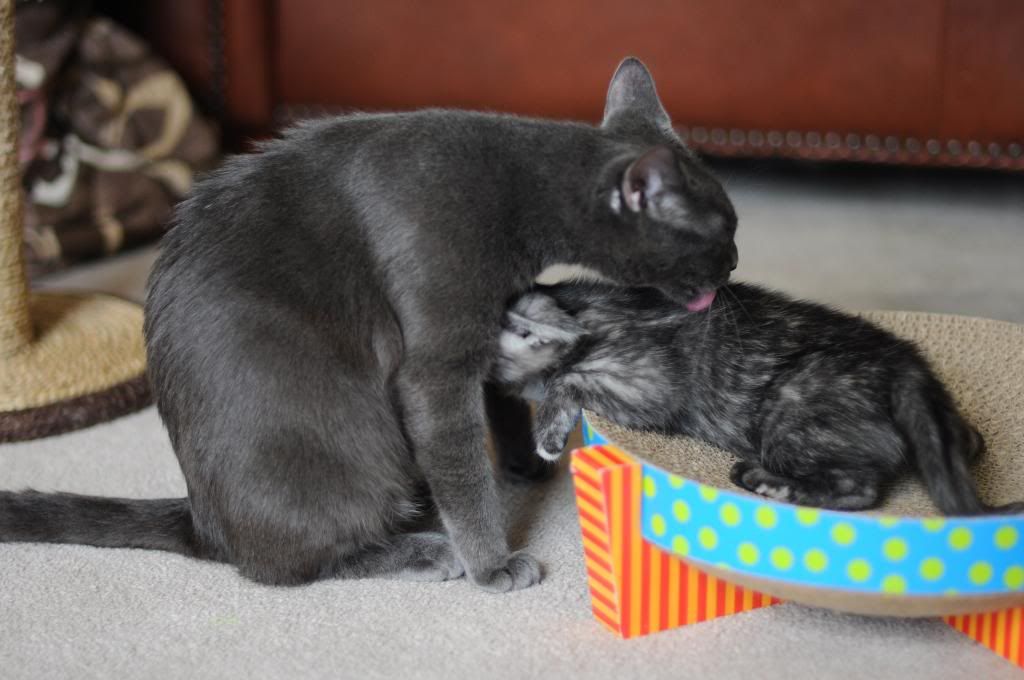 Dexter loved this little family.
I'm sorry it took me so long to post their update! I'm happy they've all been adopted.
Oh P.S. Muriel (foster mama #2) still hasn't been adopted. :-( She's been at the humane society for a long time now... almost a year I think. I don't know why she hasn't been adopted. She was a little ornery with me sometimes but overall was sweet and purred a lot. Thank goodness the humane society I foster for is no-kill and strives to be cage free. Everytime I've been there she's always just hanging out with the other kitties. She's been to Petco and Petsmart but hasn't found a home yet. So sad. :-( Hopefully she finds a home soon!!!